Clare Business Excellence Awards 2022
Customer Service Excellence Award
Sponsored by McKeogh Gallagher Ryan Accountants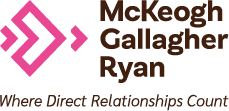 Entry Criteria
This category is open to any business that can demonstrate their focus on and excellence in customer service. Mystery shoppers will look at all aspects of the service provided in terms of staff interaction and the range of services on offer as appropriate to the needs of customers.
The mystery shopper will pay particular attention to:
The initial impact of the business
How the staff interact with customers and enhance the customer experience
How the business exceeds customer expectations.
How the services provided delight the customers.
The judges' decision will be final and no correspondence will be entered into before or after judging.
Once a company is announced as finalist, it cannot withdraw from the competition.
Guidelines for Submission
You should aim to type no more than 1500 words in total. You may attach up to three pieces of supplementary evidence, such as photographs to your submission.
Deadline & Fee
Application to be received on or before August 15, 2022.
Adjudication/Mystery shopping to commence on August 16, 2022.
Entry Fee of €50 payable per category. Applicants will be invoiced on receipt of entry.